Record of Ragnarok Aphrodite Cosplay by Byoru
2 min read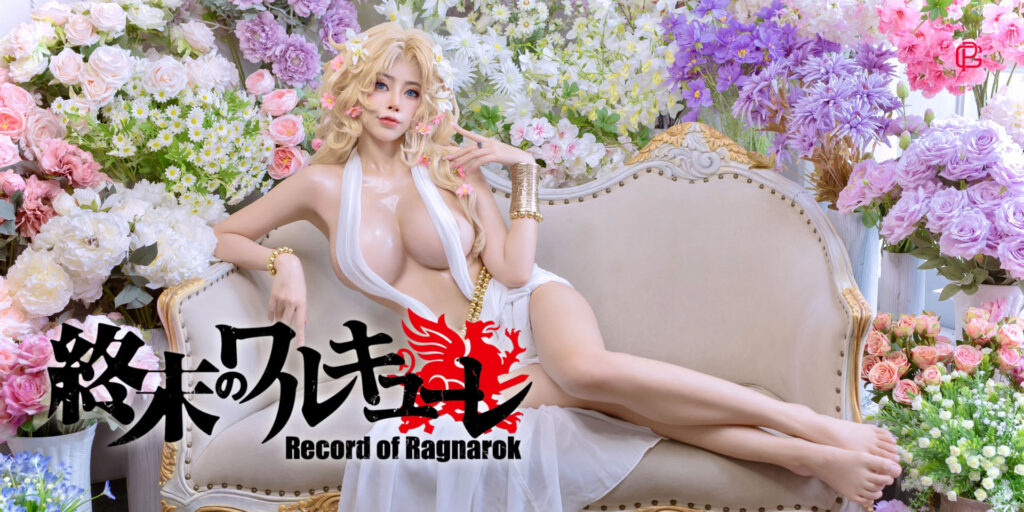 Record of Ragnarok atau dalam bahasa jepang Shūmatsu no Warukyūre adalah seri manga / anime yang menceritakan kemusnahan manusia yang di tentukan oleh para dewa dengan pertarungan antara manusia dan dewa. Bergenre Seinen yang pada awalnya di terbitkan oelh Coamix. Lalu mendapatkan adaptasi anime yang digarap oleh Graphinica.
Manga ini adalah maha karya Umemura Shinya dan juga Fukui Takumi. Dan di ilustrasikan oelh Ajichika. Salah satu dewi yang muncul disini adalah Aphrodite yang dikenal sebagai dewi cinta, kecantikan, nafsu, gairah, serta kesenangan. Dewi ini adalah dewi kepercayaan dari Yunani kuno.
Wujud dari Dewi Cinta di Anime Record of Ragnarok ini memiliki paras cantik dengan rambut pirang . Dengan mata berwarna biru serta memakai hiasan rambut berbentu bunga. Sosok Dewi cinta ini sangat menggairahkan dengan bentuk tubuh jam pasir yang memiliki payudara yang sangat besar dan pinggul yang lebar.
Selalu tampil dengan pakaian khas Yunani yaitu kain putih tipis yang hanya menutup bagian puting, punggungm serta area kemaluannya. Ia selalu dikawal oleh 2 golem yang menjadi tempat duduknya serta menopang payudaranya.
Byoru yang meyakini ia memiliki tubuh yang serupa mencoba untuk bermain kostum menyerupai Tokoh Dewi dari Anime Record of Ragnarok ini. Mimin akui Byoru terlihat sangat atraktif dengan wujud Dewi Yunani ini. Penasara dengan penampilannya?. Ini dia hasil photo sesi nya, selamat menikmati.
Klik Link ini untuk mendapatkan Topik hiburan lainnya, Terima kasih.